Fasten Your Freight Forwarding with The Most Reliable
Air Freight Company In Dubai
Safe and secure Air cargo services from the finest air freight company in Dubai with multi-modal transportation functions to drop-ship your goods from Dubai to any corner of the world swiftly and safely.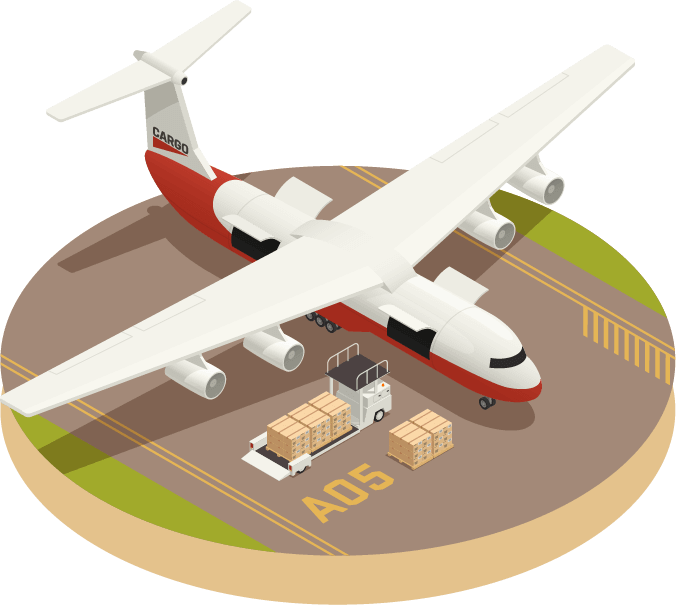 Multi-modal Air Freight Company In Dubai
Experience comprehensive Air Cargo Services for all kinds of freight requirements in Dubai.
As your trusted Freight forwarding company in dubai, We handle full customs clearance services for all sizes and weights of goods including perishables, confidential documents etc. Get your goods delivered through our extensive network across the globe at a competitive price and speed.
Air Cargo Services In Dubai By Freighbrid

General Import & Export Of Shipments

Air Freight Consolidation






Transhipments (Air-Air, Sea-Air, Air-Sea)

Packing, Repacking, Labeling, Palletization

Customs Clearance & Documentation

Export/Import Documentation & Inspections

Why Choose Freighbrid As Your Air Freight Company In Dubai?
Safe & Secure
By choosing Air Cargo Services from us, your goods will be handled with the greatest level of safety and security by highly trained professionals in charge. Critical surveillance ensures that the goods reach their destination without damage or theft.
Customs Clearance
As your Air Freight Logistics Company in Dubai, we handle all your customs clearance and documentation related to your air cargo service requirements. Air freight will save you significant time and effort, leaving room for focusing on core business.
Worldwide Reach
Air cargo services have the benefit of global outreach. You name the country, and we will have your goods delivered to the destined location with the help of our international transits. It is one of the most chosen modes of freight forwarding as airlines made accessing even the remote part of the world effortless.
Fastest Transits
ETA is one of the major aspects of freight forwarding. Air Cargo delivers your goods to any location much faster than other modes of freight forwarding such as sea freight, and land stands ahead of every other mode such as ocean freight and land transportation.
Supply Chain Visibility
With advanced tracking softwares, you obtain complete visibility over the supply chain with live time tracking to monitor the journey of goods via air cargo services. This will help avoid any disruption in the transportation of your goods and make them deliver on time.
Lower Packaging Hustle
Compared to other modes of freight forwarding, Air cargo requires lightweight packaging. Leverage our air freight services and help your business achieve efficiency on cost and time during freight forwarding.
What are the air cargo services provided by freighbrid in Dubai?
Our Air cargo services in Dubai, UAE include Air-Air, Sea-Air, Air-Sea transhipments.
Which is the fastest mode of freight forwarding provided by freighbrid?
Air Cargo services are the fastest mode of transporting your goods worldwide promptly.
How to choose the best air freight company in Dubai for the logistics requirement of my company?
The first step to finding the best air freight company in Dubai is evaluating your shipping budget and ETA. It is always better to choose a multimodal logistics company that can fulfil your range of freight requirements.
Will customs clearance be required for air freight in Dubai?
Yes. Our team will handle all customs clearance and documentation related to the air freight in Dubai for you.
What are Air freight's major advantages over other freight forwarding modes?
They are faster, secure and more reliable than other freight forwarding modes.
How can I track the status of my shipment sent via air cargo services?
You will access real-time tracking of your shipments at every transit by choosing our air cargo services.